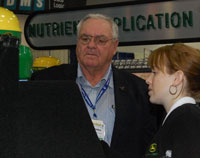 John Deere introduced FarmSight during the Commodity Classic earlier this month and we told you about it at the time, but I also had a chance to learn more about it from Audrey Bartlett, product manager for John Deere Ag Management Solutions.
"John Deere FarmSight is really all about having these advanced technology solutions integrated with our platform equipment – tractors, sprayers, combines – and also how the dealer will be a valued and trusted advisor to make your operation more productive and efficient," Audrey told me. "It's really a strategy and underneath that strategy we have three main pillars."
Those pillars are: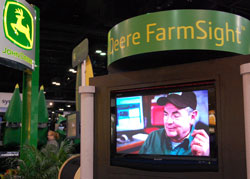 Machine Optimization – John Deere FarmSight provides solutions that will get the most out of your machine using precision technology and wireless, mobile data networks for higher levels of productivity and increased uptime.
Logistics Optimization – John Deere FarmSight will better manage logistics and machinery use from remote locations through fleet management solutions and increased machine to machine communication.
Ag Decision Support – John Deere FarmSight provides user-friendly monitors, sensors, and wireless, mobile networks to provide easy access to machinery and agronomic data essential to making proactive management decisions for your operation.
Listen to Audrey explain the FarmSight strategy here: [wpaudio url="http://zimmcomm.biz/john-deere/cc11-jd-audrey.mp3″ text="Audrey Bartlett with John Deere"]
Find out more about John Deere FarmSight by going to www.johndeere.com/farmsight