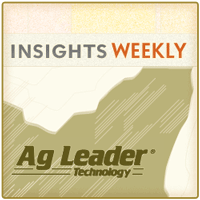 Just as you wouldn't leave for vacation without an oil change and checking the fluids in your car, as planting season approaches and you find yourself servicing planting equipment, be sure to give your precision ag equipment a "once-over" as well.
A great place to start this routine service check is by making a back-up of last year's data and creating a 2011 folder. Then, make sure your display firmware, manual and all connected modules are up to date. Updates can be found at www.agleader.com.
We spoke with Nathan Tebbe, Ag Leader Tech Support Supervisor, who gave us a few tips on things you need to be sure to watch for when it comes to servicing your precision ag equipment, and what the benefits are to doing so.
Now, before you begin the 2011 growing season, you will have the satisfaction of checking everything off of your "to do" list, and you can rest assured that you've set yourself on the right path toward a profitable and trouble-free planting season.
For a comprehensive list of the things to check or set up before the busy season, download the Ag leader Pre-Season Checklist.
If you have any questions, feel free to contact Ag Leader Tech Support at 515-232-5363 from 7 a.m. to 6 p.m. (central time) with extended hours beginning the end of March; or send an email to support@agleader.com.