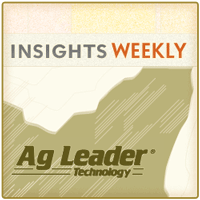 The latest firmware updates for the INTEGRA and EDGE displays have been released, offering several enhancements and new features for customers. With these new features, the displays offer even greater functionality for your operation, and the firmware enhancements address many common requests.
Customers who have the INTEGRA display will see increased functionality, including Virtual Terminal and Advanced Seed Monitoring for corn planting. Virtual Terminal gives growers the option to control additional implements with one tool. Advanced Seed Monitoring helps growers eliminate yield robbing planter problems by monitoring key factors, such as seed meter singulation, skips/doubles, spacing quality and population and spacing information.
Listen to an interview here with Matt Leinen, Ag Leader Product Manager, about how the latest firmware update can benefit your operation.
According to Matt, "The update will provide a reduction in gaps on coverage maps when using AutoSwath with SeedCommand, and the on-screen map will now exclude undesired log points outside of the field operation that previously required a user to 'Clear Bounds.'"
Two major firmware updates are made each year: by February and again in the summer prior to harvest season.
For more information about the firmware updates, visit the Ag Leader blog.