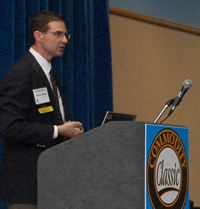 "Balancing Fertilizer Price Risk and In-Field Management to Optimize Yield and Profitability" was the topic of a Learning Session at the 2011 Commodity Classic in Tampa last week, sponsored by John Deere.
Deere's Pauley Bradley, manager of nutrient applications, had a full house for the session which discussed nitrogen practices today, concerns that fall anhydrous application may not be around in the future, and the "Four R" approach to nutrient stewardship. "Right now, our corn stocks to use ratio is very tight, so yield is important, but we have to balance that with the environmental concerns," Pauley said. "So we're trying to maximize yield while having the least amount of environmental impact."
Pauley says John Deere introduced the 2510 line of nutrient applicators a few years ago, one of which provides a way to apply anhydrous ammonia allowing for more side-dressing or in-season capabilities. "We've really tried to focus on the in-crop application, doing a better job of reading the crop's needs as it's growing and responding accordingly," he said.
Listen to or download an interview with Pauley here: [wpaudio url="http://zimmcomm.biz/commodity-classic/cc11-jd-nutrient.mp3″ text="John Deere's Pauley Bradley on Nutrient Management"]
Thanks to John Deere for helping to sponsor our coverage of the 2011 Commodity Classic!
2011 Commodity Classic Photo Album