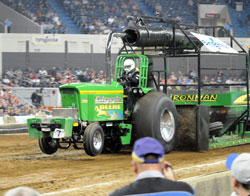 It's "like candy for pullers." That's the Championship Tractor Pull taking place after the National Farm Machinery Show closes for the day. I know these tractors aren't out in the field running precision hardware/software but thought you might enjoy seeing one of them in action.
I had to spend a little time seeing the big indoor show and have some photos uploaded for you.

This invitation-only event stars the nation's best drivers and their ground-pounding machines – Pro Stocks, Super Stocks, Modified, and Alcohol Tractors as well as Two-Wheel and Four-Wheel Drive Trucks. The drivers compete in four exciting evening performances and an additional pull on Saturday afternoon. Drivers are not only gearing up for the unequaled thrill of winning at this nationally recognized pull, but also for the chance to bring home a share of more than $200,000 in prize money.


2011 National Farm Machinery Show Photo Album
Precision.AgWired.com coverage of the National Farm Machinery Show is sponsored by: