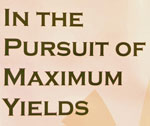 Achieving maximum yields is the goal when you are pursuing them and that is what the farmers who participate in the GROWMARK FS Green Plan Solutions program are accomplishing.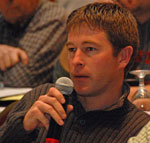 At the recent "Pursuit of Maximum Yields" (POMY) seminar in East Peoria, I talked with Justin Green of Arthur, Illinois who participated with his father and brother in the program last season. "We kinda threw every thing at the corn crop that we could, trying to see what the yield potential of the corn crop is and what pieces add to the yield," he said. "We had a fantastic corn yield and that plot actually won the Illinois Corn Growers yield contest."
When I asked Justin what maximizing yields means to him, he said, "Maximizing yields means enhancing our management practices, doing the same thing that we've always done is not going to meet the yield goal of 300 bushels per acre, so we're going to have to change things." He added that he would recommend the FS Green Plan POMY program for any grower. "Absolutely, so that they can determine what their yield potential is and what they need to do to take their farm to the next level."
Listen to my interview with Justin here: [wpaudio url="http://zimmcomm.biz/growmark/pomy-justin.mp3″ text="Justin Green Interview"]

FS Green Plan Solutions, an integrated, solutions-based approach designed to help producers enhance farm profitability by providing complete agronomic recommendations from a trusted team of FS specialists.