Agricultural equipment and machinery manufacturers are implementing more advanced electronics into their products these days to help farmers become ever more efficient. That's why "Smart Farming" will have its own special segment at Agritechnica 2011, November 15-19 in Germany.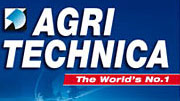 According to show sponsor DLG, "Smart Farming – Intelligent and sustainable plant production " will host a wide range of renowned independent experts from leading agricultural consultancies and specialists from academia.
Visitors to the "Smart Farming" show special will be able to obtain a wealth of authoritative information and practical advice on the best-practice application of current technologies together with news of the latest technical trends that underpin intelligent farming.
Interactive displays and simulators will address many important topics including: Navigation, Sensor Technology, Data Management, ISOBUS and Future Solutions.
"Robotics, automated steering and driving, and GPS satellites are just some examples of future technologies which are now within the reach of today's progressive farmers. The DLG at Agritechnica 2011 will highlight the exciting efficiencies that can be achieved by adopting the best technologies available today that are vital to intelligent enthusiasts" says Roland Hörner, Head of Technology, DLG.