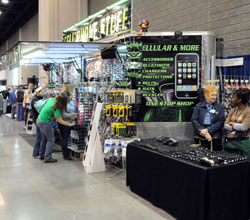 The show is underway in Louisville, KY and the crowd is growing by the minute. The weather is really helping out as things warm up.
I did a little random photo walk and have added to the photo album. Keep an eye on it as it grows these next couple days! Since I had just posted the results of our latest ZimmPoll about smartphone platforms I thought it was interesting to run into a booth selling mobile phone accessories!
2011 National Farm Machinery Show Photo Album
My next step is to begin doing some interviews and of course I'll be tweeting at @AgriBlogger!
Precision.AgWired.com coverage of the National Farm Machinery Show is sponsored by: