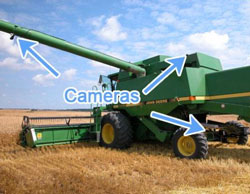 Need a camera on your combine, tractor, grain bin or just about anywhere else on the farm? Try AgCam by Dakota Micro. The photo shows just one of the many places (pdf) you can put these cameras.

Dakota Micro, Inc., manufacturers of the AgCam camera system, is proud to announce the arrival of our newest product line. The OverView camera system (pdf) is the final component that allows us to offer our customers a complete camera lineup.
The AgCam was designed as the top of the line, quality product to survive rugged, wet and just plain gruesome environments. The OverView fills the gap, offering customers a well built camera system at a lower cost. The addition of this system allows Dakota Micro to fill the needs of both quality and price point.
Starting at an MSRP of just $322, the OverView will boast a high color contrast ratio monitor with bright LED backlighting, watertight cameras, forward/mirror image selection, high intensity night vision, choice of standard or quad display, and an 18 month warranty. Customers will be able to upgrade their systems easily to wireless without having to buy their equipment all over again. The OverView will also feature the same connectors as the currently available low cost systems.
As a small token of our appreciation of our American Service Men and Women who defend our freedom to be the best we can be every day of our lives, we have decided to donate a portion of profits from the OverView camera system to a program called AnySoldier. Please check out their website to see what it's all about: www.anysoldier.com.
To see how tough these cameras are watch the video: