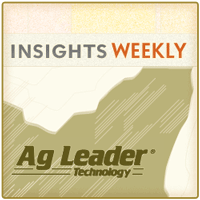 Farmers know that planter skips and doubles are costly, especially given current grain prices. Fortunately some of today's monitors can really help pinpoint when a specific row unit causes an error—and that information can lead to quicker and more efficient troubleshooting and repairs.
I spoke with Will Cannon today, SeedCommand product specialist with Ag Leader Technology, to learn about how their new Advanced Seed Monitoring technology can benefit farmers.
"There are two principle components above and beyond traditional seed monitoring—singulation detail and spacing quality—delivered by our Advanced Seed Monitoring capability. While the whole industry is headed towards advanced monitoring, what sets us apart is that our screens are visually simple and appealing, allowing growers to see problems with one quick glance at the screen."
The first screen, planter performance, shows a large bar graph representing all planter rows. "Farmers can quickly assess population, seed singulation and seed spacing quality," Cannon says. The second screen, row performance, shows a virtual seed trench. "This is an awesome diagnostic tool for a row that is giving you trouble. You can slow or pause, and zoom in or out, to help pick up on a pattern to help pinpoint issues," he adds.
Issues with singulation that occur on a row unit usually indicate problems with the seed meter. If seed spacing quality is the problem, that could be caused by driving too fast or improper drop due to seed tube issues, Cannon says. "This technology really helps isolate different issues on a planter so a farmer can quickly determine the problem and the location."
Current INTEGRA customers with SeedCommand and the Seed Tube Monitor Module can get this valuable update with no unlocking fees. And check out the video link below to actually view the technology.
Visit these links for more information:
Video Interview about Advanced Seed Monitoring
http://precision.agwired.com/2011/02/ag-leader-releases-advanced-seed-monitoring/
Advanced Seed Monitoring
http://www.agleader.com/media-center/
Ag Leader dealer locator http://www.agleader.com/dealer-search/