Precision agriculture means more than just the use of equipment and technology to save time and money, it also means the "application of technologies and agronomic principles to manage spatial and temporal variability associated with all aspects of agricultural production for the purpose of improving crop performance and environmental quality."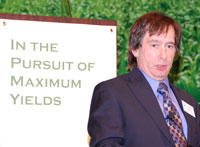 At the recent GROWMARK FS Green Plan Solutions "In Pursuit of Maximum Yields" conference in East Peoria, growers and consultants heard from two University of Illinois experts on how to maximize corn and soybean yields.
Dr. Fred Below gave his "Seven Wonders of the Corn Yield World" presentation to the audience. "The seven wonders concept was designed for us to put a value and ranking behind those factors that every year impact corn yields," said Dr. Below. "Number one is the weather, number two is my favorite – nitrogen, three is the most important decision farmers make each year – hybrid selection, number four has to do with crop the year before, number five is plant population, number six is tillage or no tillage and number seven is a new broad category called growth regulators. And these factors together can combine and maximize to produce up to 260 bushels."
Listen to my interview with Dr. Fred Below here: [wpaudio url="http://zimmcomm.biz/growmark/pomy-below.mp3″ text="Fred Below Interview"]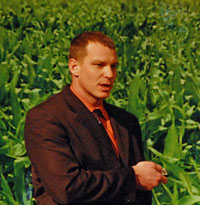 Dr. Vince Davis discussed how it takes a total management approach to increase soybean yields. "In soybeans, increasing yields is a really tough game to get into," Vince told me. "About 10 bushels, 9 and a half bushels an acre is about what we were able to obtain in our large plots, and that's about what I've seen as a maximum level that we can increase. If you can put up 10 extra bushels at $13 beans, that's a lot of extra money."
Vince urges farmers to get as much information as they can and experiment to find out what works on their own operations and he had praise for GROWMARK and FS Green Plan Solutions agronomists working with producers. "We worked with one of our local agronomists at the Illini FS location and they are doing a great job getting on the farms, finding out what growers are interested in doing, what does and doesn't work on the farm, and do it all from the standpoint of economics," he said.
Listen to my interview with Dr. Vince Davis here: [wpaudio url="http://zimmcomm.biz/growmark/pomy-vince.mp3″ text="Vince Davis Interview"]

FS Green Plan Solutions, an integrated, solutions-based approach designed to help producers enhance farm profitability by providing complete agronomic recommendations from a trusted team of FS specialists.