FS Green Plan Solutions, part of the Growmark company, sponsored a great conference in Peoria today for about 300 farmers and consultants around Illinois and surrounding states all focused on the pursuit of maximum yields for corn and soybeans.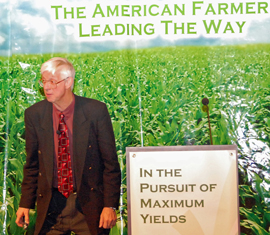 The event started off with a dynamic presentation by Purdue University economist Dr. Mike Boehlji, who discussed the good news of demand for exports and biofuels, as well as the challenges for meeting that demand.
One of Dr. Boehlji's main points is that American agriculture is facing increasing competition from other countries, so farmers need to become increasingly efficient by thinking in terms of biological manufacturing. "We're increasingly thinking about farming the way you think about a manufacturing process," he said. "We're using GPS technology to not only monitor what the yield is across the field, but we're actually using it now to change the rate of application in fertilizer and chemicals. We're using that technology to find out where the wet spots are. We're using a lot of information technology, we're using sensing technology more, we're using a better nutritional technology." Process control technologies, like irrigation control, as well as auto steer tractors, and of course improved hybrids all contribute to running agricultural operations more like manufacturing operations.
Hear more in my interview with Dr. Boehlji here: [wpaudio url="http://zimmcomm.biz/growmark/fs-pomy-boehlji.mp3″ text="Mike Boehlji Interview"]

FS Green Plan Solutions, an integrated, solutions-based approach designed to help producers enhance farm profitability by providing complete agronomic recommendations from a trusted team of FS specialists.