"The pursuit of maximum yields will take you to the next level."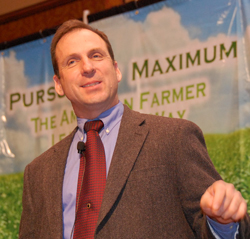 That's what GROWMARK Agronomy Services Manager Dr. Howard Brown told over 300 farmers and farm consultants meeting in Peoria on Friday for a FS Green Plan Solutions conference focused on pursuing maximum yields for corn and soybeans.
"We came up with this concept of pursuit of maximum yield so that we can maximum return, optimize inputs, while minimizing environmental impact and there's no better message to get out right now, not only to the farmer but also to the general public," Howard told me in an interview.
"We're doing great at raising 160 bushel corn and 50 bushel soybeans but as we move to higher yields, we're finding that it may not be one product, it may be a multiple set of products that make us get to the next level," he said, referring to Liebig's Law of the Minimum, where if one thing is limiting nothing else will work until the limiting factor is fixed.
Howard was really excited about the turnout for the event on Friday and the enthusiasm of those who attended.
Listen to my interview with Dr. Howard Brown here: [wpaudio url="http://zimmcomm.biz/growmark/fs-pomy-howard.mp3″ text="Howard Brown Interview"]
See photos from the event here.

FS Green Plan Solutions, an integrated, solutions-based approach designed to help producers enhance farm profitability by providing complete agronomic recommendations from a trusted team of FS specialists.