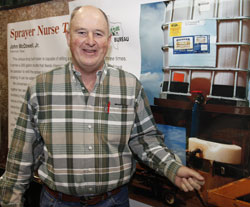 There were lots of innovative ideas on display at the American Farm Bureau Federation (AFBF) Farmer Idea Exchange this year, but only one could be the winner, and that was John McDowell Jr., of Texas and his "Sprayer Nurse Trailer." McDowell's unique shop-built trailer can refill a self-propelled sprayer three times. It carries a 265-gallon shuttle that gravity-feeds chemicals into an induction cone. The trailer allows the sprayer operator to refill the sprayer in less than five minutes and get back to the field.
As the grand prize winner in the competition at the AFBF 92nd annual meeting, McDowell won one full year's use (or 300 operating hours) of a New Holland tractor. New Holland has provided a year's free use of a tractor to the grand prize winner for 21 of the 22 years the program has been conducted.
Other top awards of $500 apiece included Rory Frick of Illinois who developed both the "most innovative" and "most widely useable" concept. Frick's multi-functional ladder contains platform steps that remain parallel to the surface at any inclination. When unfolded at a 45-degree pitch, the ladder resembles a staircase. When in the storage position, folded and locked, the ladder is only 2 inches thick and can be used as a ramp. Wheels can be added to convert the ladder to a creeper (mechanic's tool) and push bars can be added to make a utility cart. It provides safe, easy accessibility to even the physically challenged and reduces the risk of injury.
The "most cost-effective" idea came from Merle Langeland of Michigan. Langeland's Care Chute with Quick-Attach Skid Steer Bracket is a calf-sized, portable animal care chute that is easy to set up, clean, move and store. It is the ideal size for working with calves.