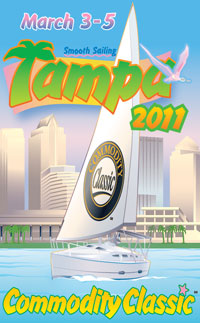 The annual Commodity Classic coming up March 3-5 in Tampa provides corn, soybean, wheat and sorghum growers the opportunity to discover the trends and issues that will have the greatest impact on their industries in the coming year.
"I can't think of a more comprehensive event organized to benefit farmers than Commodity Classic," said Commodity Classic Co-Chair Theresa Schmalshof. "Attendees learn about the latest advancements in production agriculture, discover what government policies will significantly impact the U.S. farm industry and are provided a variety of opportunities to mingle with growers and industry representatives from across the country."
For example, Commodity Classic will kick off its educational programs on March 3 with an Early Riser Production Session called "Become Eight Percent More Efficient and 19 Percent More Profitable" with speakers Brian and Darren Hefty from Ag PhD TV. Attendees will learn the secrets to increasing efficiency on the farm, from new high-tech equipment options to simple, commonsense practices. Also that day, Commodity Classic Pre-opening Learning Center Sessions will give you the tools to effectively tell the story of agriculture, and how to make your farming operation more profitable.
To take advantage of the lowest registration rate for Commodity Classic, register by the early discount deadline of January 20 at www.commodityclassic.com.