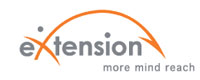 Local county extension agents used to be the main source of information for farmers and ranchers in any particular area whenever they had questions about the latest research and technology. These days, it's getting more commonplace to surf the internet from the farm and get information from all over the world, but the trick is often sorting out the wheat from the chaff.
Combining the county agent as the traditional source of information with the internet is eXtension.org, an interactive learning environment offering researched-based knowledge from experts at 74 different universities across the country. The site includes resource areas from farming to community planning and features professional educators with expertise in those topics to provide online learning opportunities.
Check it out – eXtension.org,.