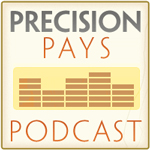 In this edition of the Precision.AgWired.com Podcast, sponsored by Ag Leader Technology, we look at the issue of being able to share data between different precision ag manufacturers' equipment and software. It's an issue recognized by the precision agriculture industry as a whole. Members of AgGateway, a consortium of ag businesses that helps the industry share information electronically in the agricultural and food supply chains, are taking the lead on how to solve the problem.
Kelby Kleinsasser, who is the director of Ag Information for Raven Industries and the chairman of the new Precision Agriculture Council at AgGateway, says that starting earlier this year, they wanted to find a way to share data in field operations and data transfer, while protecting the proprietary information each company brings to the table. The new council he chairs is now working on the issue and hopes to have a solution that will allow data to be shared between various companies' programs and hardware, while keeping proprietary information protected.
"We're not talking about open source. We're talking about open standards," Kleinsasser says. Intellectual property will be maintained.
Kleinsasser adds that they're looking for input from other members of AgGateway so that the standards will best help producers farm and ranch most efficiently. You can follow updates on this subject on the AgGateway website.
You can hear you can hear more about what he has to say about setting the precision ag data standards in this edition of the Precision.AgWired.com Podcast in the player below below. [wpaudio url="http://zimmcomm.biz/precision/precision-podcast-15.mp3″ text="Precision.AgWired.com Podcast"]
You can subscribe to the Precision.AgWired.com Podcast here.