As you start your Christmas shopping, consider this for someone on your list – a signed John Deere toy tractor that will support future farm broadcasters.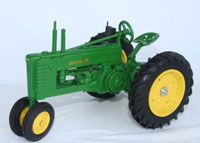 Joe Ertl has personally autographed each of the numbered John Deere B 1/16 scale toy tractors for the National Association of Farm Broadcasting (NAFB) Foundation. This unique tractor was specifically designed for NAFB and includes a mounted replica of a tractor radio. Only 200 of these tractors have been produced to benefit the NAFB Foundation. Numbers 6-200 have been made available to the public for sale while the first five were auctioned live during the NAFB Convention earlier this month. Only a few are left for sale.
The price per tractor is $85 plus shipping and handling and orders can be made online.
The NAFB Foundation is the nonprofit charitable and educational arm of NAFB that works to keep the quality and viability of the farm broadcasting profession and industry at the highest level through the support of NAFB education, marketing and research activities, annual student scholarships and internship grants to stations and networks.