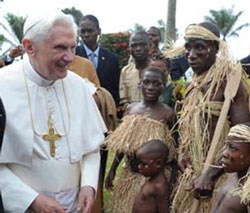 This week, as we "give our thanks to God for the fruits of the earth and the work of man," Pope Benedict XVI recently offered some reflections on agricultural work and feeding the world.
In a November 14 address, the pope said that "the process of industrialization has often overshadowed the agricultural sector, which, while also drawing benefit from modern technologies, has nevertheless lost importance, with notable consequences, even at the cultural level. I believe that this is the moment for the reevaluation of agriculture, not in a nostalgic sense, but as an indispensable resource for the future."
Calling for a "new balance between agriculture, industry and services," Pope Benedict noted the importance of the agricultural sector for employment. "More than a few young people have already chosen this path; also many professionals are returning to dedicate themselves to the agricultural enterprise, feeling that they are responding not only to a personal and family need, but also to a "sign of the times," to a concrete sensibility for the common good."
Amen!