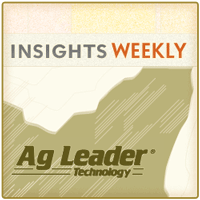 Many growers across the Midwest report one of the best weather harvests in a long time. I know my brother and cousin in central Iowa finished their shared harvest duties earlier than anyone in the family can remember. And the nice thing about that—more fall field work was completed.
While it's a big relief that the crop is in, make sure your prep work of winding down harvest equipment before winter is completed. Regarding precision farming equipment, I spoke recently with Nathan Tebbe, technical support supervisor with Ag Leader Technology, who provided some tips and reminders.
• Create a data backup before removing your display from the combine/tractor for winter. Put it on a card and then transfer it to your computer hard drive. Make sure the individual log files are on the hard drive. And it's always wise to pull the data into your SMS software now to work the data while it is still fresh in your mind. "It's a lot easier to transfer and analyze data now before you forget, compared to doing it in January or February," Tebbe says.
• Bring your display unit inside for winter to store them. Although these can stay in your equipment, they are too valuable to leave outside.
• Tackle all those little fixes on your equipment that you didn't have time for in the heat of harvest while you still remember them.
• Clean all equipment to prevent mice damage. Sweep or blow out all the dirt and debris in the nooks and crannies of your combine. "You'd be amazed how often we troubleshoot grower problems, and the culprit turns out to be chewed wires that happen during the winter."
• Also in combines, remove the mass-flow sensor in the clean-grain elevator because mice like to attack it. And it's wise to be sure and clean the elevator mount unit, as any type of moist grain or crop residue can easily coat the sensors.
• When removing any equipment, put a cover, rag or plastic bag over the cable ends to keep them clean and dry.
• For GPS equipment, Tebbe advises to remove and store it. That way nothing will happen to it.
• And don't forget to clean out all hoses, especially on anhydrous bars that applied N-Serve. Winterize all pumps and sprayer boom valves. Blow out all the lines, oil the planter chains, and just give all equipment the once over before stowing it in the far reaches of the shed.
Winter training. Tebbe reminds all Ag Leader customers of upcoming winter training coming to a dealer near you. "Check with your local dealer for days and times, as well as check our Customer Support page on our website (link below) as we'll be posting dates soon."
Visit these links for more information.
Tech Support Tips for Organizing Your Data Collection http://www.agleader.com/2010/11/19/tech-support-tips-for-organizing-your-data-collection/
Ag Leader dealer locator
http://www.agleader.com/dealer-search/
Ag Leader Customer Support page
http://support.agleader.com/
SOFTWARE:
SMS Advanced http://www.agleader.com/products/sms-advanced/
SMS Basic http://www.agleader.com/products/sms-basic/