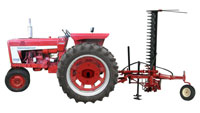 Marathon County will be hosting Wisconsin's Farm Technology Days in 2011 and they are already offering official Marathon County Farm Technology Days apparel and collector's items for that special someone on your Christmas list.
Among the items they have for sale on-line are hats, hooded sweatshirts, t-shirts (youth & adult), tote bags, travel mugs – and the collectible IH544 toy tractor with a 2-point mounted sickle mower is available for the first time ever. The tractor is being sold exclusively through the 2011 Marathon County Farm Tech Days and only 1,000 will be produced. Proceeds will support the 2011 Marathon County Farm Tech Days. The only catch with the tractor is that you can buy it now, but it will not be available until the show in July.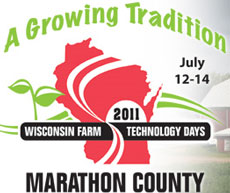 Wisconsin Farm Technology Days is the largest agriculture exposition in Wisconsin that showcases the latest improvements in production agriculture. Each year, the three day event is held in a different Wisconsin county on a different host family farm. With over 600 exhibitors, the show draws 60,000 agriculture and rural visitors from Wisconsin and surrounding states.
The July 12-14, 2011 show will be held at the Ken & Karen Seehafer farm north of Marshfield. The 3rd generation family farm was originally purchased by Ken's grandfather in 1930 consisting of 80 acres. The farm grew to 200 acres by Ken's parents, Alma and Elmer Sr., and were milking 36 cows when Ken joined the operation in l968. He purchased the farm in 1972 and it continued to change throughout the years to its existing 750 acres owned plus 100 rented and 250 milking cows.