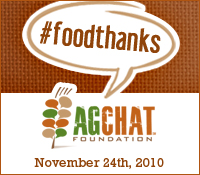 The AgChat Foundation has come up with a unique idea for you to use during this upcoming week of Thanksgiving. It's called #foodthanks. It's a way to show your thanks for the food we enjoy every day and the people who produce it.
So what you're encouraged to do is go to the webpage where you'll find images for your Twitter accounts and other web purposes. Tweet with the hashtag, #foodthanks, especially on November 24.
Remember that all this week is National Farm-City Week, always the week before Thanksgiving, to celebrate the important partnership between farm and urban residents in providing the nation with a bounty of food, fiber, fuel and a growing list of other other products. Chuck Zimmerman, president of Animal.AgWired.com's parent company ZimmComm New Media, took part in a panel discussion to kick off Farm City Week held Thursday in Lancaster, PA. The panel addressed the urban media's coverage of agriculture in the annual Farm-City Week Symposium "Agriculture: A Growing Story" and explored ways to promote the positive news about farming and ranching.
The symposium was broadcast live on AgriTalk and can be viewed here: