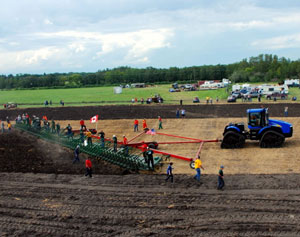 The Manitoba Agricultural Museum has plowed new ground with a world record for the Largest Operational Agricultural Plow, according to the World Records Academy.
The museum assembled and used the 77 foot wide plow at the Manitoba Threshermen's Reunion and Stampede. The first plowing pass used five 30-60 E Rumely steam tractors to pull the monster plow across a field north of the Reunion grounds. Then they used a single 535 HP New Holland 4 wheel drive tractor with ATI tracks to see if modern agriculture could compete with century old technology – and it did quite well!
"We were excited to break the record for the world's largest usable plow with 30-60 E Rumely OilPull tractors as they originally created this record in 1911," said Erron Leafloor, the plow's chief engineer.
See more photos from the event on Facebook and read more about it from the World Records Academy. Pretty cool!