It's been nearly a year since the inaugural AG CONNECT Expo happened in Orlando, Florida back in January. A successful first-time event, AG CONNECT Expo 2011 is shaping up to be even better. AgWired reporter Cindy Zimmerman caught up with the show's director Sara Mooney to learn what is on tap for next year's event being held at the Georgia World Congress Center in downtown Atlanta, Georgia on January 7-10, 2011.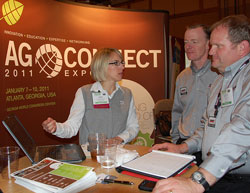 Mooney attributes much of the show's success to their industry supporters. "The show was 30 years in the making so there was a lot of interest and a lot of participation from throughout the industry. So it was a very successful event," said Mooney.
It's also the support of the industry that is helping them create an even more educational event for next year. Mooney said this year there are more exhibitors and 35 brand new sessions targeted for growers who want to learn more about precision farming to those who own dairy or beef operations. Several of the educational sessions will cover smartphone technology, wireless technology and irrigation. All the sessions are designed to help growers better manage their farm operations all while increasing profits.
This year, AG CONNECT Expo 2011 will be hosted along side the American Farm Bureau Federation's annual meeting. The group will be exhibiting along side AG CONNECT in the pavilion and attendees of both events will have access to all the exhibits. In addition, the event is certified as an international buyer program show by the U.S. Department of Commerce and Mooney said this is advantageous because the event is promoted at their posts throughout the world. Last year, 20 percent of the attendees were from other countries and Mooney expects this number to be much higher at next year's show.
To learn more about the event, see a list of the dozens of educational programs and to view information about the more than 100 exhibitors, visit www.agconnect.com. You can also register online and those who sign up by December 10, 2010 will receive registration discounts.
You can also learn more about AG CONNECT Expo 2011 in Sara Mooney's interview. [wpaudio url="http://zimmcomm.biz/nafb/nafb10-agconnect.mp3″ text="Don't Miss AG CONNECT Expo 2011″]