On his trip to India, President Barack Obama promised that the U.S. will help that country's agriculture continue to grow with advanced farm technology, research and other related expertise.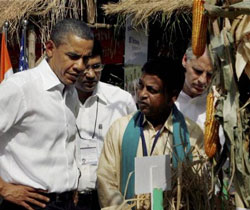 "Together, we can strengthen agriculture," Obama said in his address to members of both houses of the Indian Parliament. "Cooperation between Indian and American researchers and scientists sparked the Green Revolution. Today, India is a leader in using technology to empower farmers, like those I met yesterday who get free updates on market and weather conditions on their cell phones. And the United States is a leader in agricultural productivity and research. Now, as farmers and rural areas face the effects of climate change and drought, we'll work together to spark a second, more sustainable Evergreen Revolution."
Obama added that the United States will also help India share agricultural achievement with Africa. "And this is an indication of India's rise —- that we can now export hard-earned expertise to countries that see India as a model for agricultural development. It's another powerful example of how American and Indian partnership can address an urgent global challenge."
The president met with a group of rural Indian farmers during an agricultural expo in Mumbai, which exhibited products from a number of companies to bring new technology and opportunities to villages around the nation.