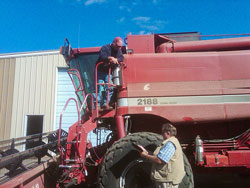 Straight from the USDA Blog we find out that the National Agricultural Statistics Service (NASS) will begin using iPads to collect data in 2011. They have already been testing them in the field, as NASS interviewer Don Phillips is pictured here using an iPad for data collection for the September Agricultural Survey.

The National Agricultural Statistics Service (NASS), will take a technological leap forward in 2011 by using Apple's new iPad as the data entry device to collect survey responses. This is an exciting step forward from the old pencil to paper method, still in use today. The iPad, coupled with NASS's unique approach to computer assisted personal interviewing (CAPI), will revolutionize the NASS survey process and will open the door for future innovative opportunities.
To improve response rates and increase accuracy of survey results, NASS contracts field enumerators to make personal contact with selected survey participants. Historically, face to face interviews were conducted using paper questionnaires, but the diminishing cost of personal enumeration devices and the increased capabilities of broadband technology enabled NASS to explore data collection using iPads and personal Wi-Fi devices.
The iPad contributes significant benefits to the process. The size of the screen, the ability to select landscape or portrait mode and the fonts resizing option allow enumerators to control how much of a survey page they see at one time. The portability of the device is also an important asset. Producers are extremely busy and mobile and the iPad, weighing only 1.5 pounds, can be easily carried and used in corn fields, feedlots and back roads. The producer doesn't even have to leave the tractor to answer the survey.
The iPad's unique operating system allows NASS to maintain a high level of security on the device. Through the use of cloud computing technology, no data are stored on the device. If the device is broken, lost or stolen, data are not compromised.