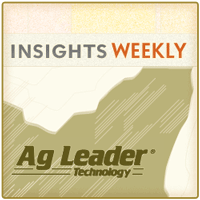 Precision steering, whether assisted technology attached to the steering wheel or fully automated steering wired into hydraulics, can give you improved pass-to-pass accuracy, time and money savings, and less operator fatigue.
I spoke the other day with Jeff Bentley, Ag Leader Technology's sales manager for GPS Guidance and Steering, to get his take on the usefulness of non-human steering in the fall.
He told me there are three major areas that auto steer technology can benefit a farmer in the fall—combining, field tillage and fall fertilization. And you don't necessarily need the higher cost RTK differential correction signal.
"In the combine, either our OnTrac2 assisted steering system or our advanced ParaDyme automated steering will benefit anyone with a platform head to keep it completely full of soybeans or wheat during harvest," Bentley says. "We have some customers who also use RTK to guide a corn head down rows that were planted using RTK auto steer."
When it comes to fall tillage, many growers have done some on-farm testing with automated steering. "The results growers tend to see when comparing manual steering to auto steering usually range from three percent up to 10 percent greater efficiency. And you can use a wide range of signals, from the free WAAS signal to OmniSTAR to RTK."
The third fall application that benefits from auto steer is fertilization. "Growers use it when applying anhydrous, when using a spinner-spreader and especially when applying fertilizer as part of a strip-till operation, using RTK so they can come back and plant exactly over the top next spring," Bentley says.
To control these systems, Bentley says the OnTrac2 uses the EDGE display. For the ParaDyme, you can use either the EDGE or the INTEGRA display. "And with either display you can add DirectCommand for section control and rate control for anhydrous bars and strip-till air carts."
Bentley says if you haven't invested in steering technology yet, its year-around uses will deliver greater efficiency, fuel savings, input savings, time savings and especially less operator fatigue.
Visit these links for more information.
ParaDyme and OnTrac2 http://www.agleader.com/products/steering/
INTEGRA http://www.agleader.com/products/integra/