The 10th International Conference on Precision Agriculture (ICPA) has kicked off at the Hyatt Regency Tech Center in Denver and runs through Wednesday, July 21, 2010.
Throughout the day, hundreds of research scientists, producers, technology company representatives, equipment manufacturers, input dealers, agronomic consultants, software developers, educators, government personnel and policymakers have been pouring into the Mile High City from 40 different countries to look back on the past 20 years of precision ag innovations and to work together on the future of maximizing the potential of the world's farmlands.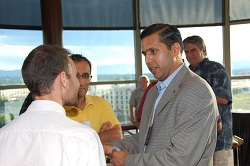 At the opening reception tonight, I caught up with Dr. Raj Khosla, the chairperson of the 10th ICPA and a professor at Colorado State University. He told me with 300-500 participants from such a wide variety of places around the world, he expects a large part of the conversation will be on the hot topic of food security.
"Precision agriculture has been mentioned as one of the soultions in meeting food security. Populations are increasing. People's eating habits are changing." And to meet those increasing demands, Khosla says they have to figure out how to translate some of the precision ag techniques used in the U.S. and apply them to lesser-developed countries. He says meeting the food demands of these growing countries could literally transform those societies.
"When you're tummy is hungry is hard to listen to anything else other than feeding itself. There's an opportunity for precision ag to contribute to lesser developed countries, smaller field sizes by coupling the technology and the [large labor markets]." He says it is just as important to use the same amount of labor to grow the larger quantities of food so precision agriculture doesn't end up putting those workers out of jobs.
Khosla says precision agriculture is putting the right inputs in the right place, at the right time, and in the right manner. It's a great conversation, and download or listen to Khosla's interview at ICPA here: [wpaudio url="http://zimmcomm.biz/leica/icpa-10-leica-khosla.mp3″ text="Dr. Raj Khosla"]
And check out the ICPA Photo Album