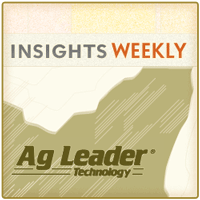 For farmers who deal with the planting and spraying challenges of farming on contours, terraces and hills, there's a new guidance pattern from Ag Leader Technology that offers help.
Called SmartPath, this new 'drive and guide' pattern is designed for fields beyond the straight and flat, and it doesn't require the traditional set-up using beginning and end points.
"If you have farmed contoured fields, you know there is no sequential pattern that is followed; it's much more random. With SmartPath, once you drive the first pass, all subsequent passes are GPS-guided to follow the previous path," says Matt Leinen, product manager with Ag Leader. "This pattern will make planter row shutoff or sprayer boom shutoff technology very effective, especially when dealing with the convergence of many point rows."
While this type of pattern isn't unique in the industry, Leinen says their technology is designed to follow the best path. "The challenge with this type of pattern is the convergence of numerous paths which come together that are unevenly spaced. We designed the SmartPath to select the right path."
This pattern is available with any of Ag Leader's manual guidance, assisted steering or automated steering products, including the INTEGRA and EDGE displays, as well as the OnTrac2 and ParaDyme steering systems.
SmartPath is joining a family of guidance patterns available with Ag Leader's guidance and steering, including Straight AB, A+, Identical Curve, Adaptive Curve and Pivot. It is available in the following firmware releases: Version 1.5 of the INTEGRA display and Version 3.5 of the EDGE display. Updates can be downloaded from www.agleader.com, under 'Customer Support'. http://www.agleader.com/customer-support/
Visit these links for more information.
SmartPath http://www.agleader.com/media-center/
Steering products http://www.agleader.com/products/steering/