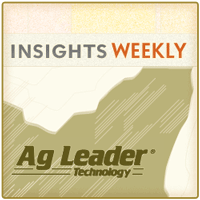 Anytime I hear a grower mention best corn planting in 38 years, my ears perk up and the brain wonders why? Then you hear corn seed savings of 45 bags of seed, or $9,900. Wow. I'm beginning to understand this best year deal.
Franksville, WI, grower Mike Borzynski attributes his personal best in the field due to his investment in the new Ag Leader ParaDyme steering system with the INTEGRA display. He used the system on part of his 3,500 acre grain and 4,000 acre vegetable operation—along with another 1,200 acres of custom work.
Borzynski used the INTEGRA to run the SeedCommand with his ParaDyme system to achieve those seed savings over 1,240 acres of corn. And after these results he plans to plant other crops with it in the future. "The ParaDyme worked great. After the first week using it, I bought another one," he says. Using multiple ParaDyme systems on his operation, Borzynski is confident that he'll see even more reduction in his input costs in the future.
The ParaDyme automated steering system can be easily transferred from one piece of equipment to another. This allows growers like Borzynski to utilize the ParaDyme not only for planting, but also for application and harvesting.
His next trial is moving this system into his John Deere 7230 tractor, using DirectCommand and his pull-type sprayer to reduce application costs. When asked if he would recommend ParaDyme to a friend or neighbor, Borzynski says without hesitation, "Absolutely. I believe in it 100 percent."
The ParaDyme automated steering system can be used with the INTEGRA or EDGE display, and offers its users a wide range of benefits for their precision ag operations. For more information about the ParaDyme steering system, visit www.agleader.com.
For more information, visit
Ag Leader Technology Insights newsletter http://www.agleader.com/docs/insights-jun10.pdf
ParaDyme steering system http://www.agleader.com/products/steering/