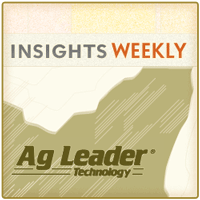 Wow, 19 years of test plots is a major undertaking, especially when started and conducted by a magazine. I'm sure you're familiar with the Farm Journal Test Plots, started by Field Agronomist Ken Ferrie and Editor Charlene Finck. Initially, the plots were basically learning tools about how to grow crops better—shared with farmers. Today, Farm Journal launches into its third year of Corn College classroom and in-field events along with the test plots. And the knowledge goal remains unchanged.
This July, Ag Leader is sponsoring Farm Journal's Corn College events near Bloomington, IL. Led by Ken Ferrie, Associate Field Agronomist, Missy Bauer and the Corn College crew, the events are packed with take-home crop production knowledge integrating both classroom and in-field instruction. The Corn College location is surrounded by 17 acres of demonstration plots which allow attendees to head out to the field with Ferrie, Bauer and other agronomic coaches.
As a sponsor of Corn College events, Ag Leader experts will present a Tech Session on crop sensors. Growers can learn details about how sensors work, how to collect crop scanning data, how to implement crop sensors into a nitrogen program and how this information can lead to successful management decisions.
"We're participating in this event to not only educate growers on precision farming and the latest technology, but also to learn from the sessions and by visiting with growers," says Jessica Reis, Marketing Communications Specialist for Ag Leader Technology.
The company will also be located in the vendor tent to answer questions about the latest technology trends and how growers can put together a year-round precision farming system—designed to achieve optimum input efficiency and maximum productivity.
If you cannot attend, Reis says to check out their Precision Point blog (link below) as they will be posting knowledge gained from the meetings.
Corn College is being held July 19-23. If you register for Corn College by Friday, June 18 (TODAY), you get the early-bird rate of $199. Otherwise you pay $249. Sessions are filling up fast. For more information and to register, visit www.agweb.com or http://www.regonline.com/builder/site/Default.aspx?eventid=804054
For more information, visit
Precision Point blog http://www.agleader.com/blog/
Farm Journal Corn College https://secure.lenos.com/lenos/pcg/fjland/summer.htm
Corn College Registration http://www.regonline.com/builder/site/Default.aspx?eventid=804054