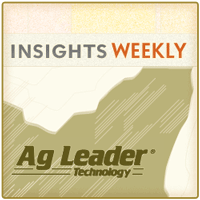 Corn genetics costs are driving more farmers to seek savings during planting season. And precision farming tools, such as planter row shutoff, are delivering fairly quick payback in many cases, depending on farm size and field shapes.
I spoke with central Iowa grower Steve Snyder this week to find out about his first planting season using row shutoff. "When my son Jon and I checked into the possible payback of the Ag Leader setup (Integra monitor, SureVac Electric Row Shutoff), the calculator said one year for our operation. But like Jon said 'so what if it takes two,' that's still a no-brainer."
While just two weeks removed from parking the planter for the season, he hasn't had time to calculate actual seed savings for 2010. "I know we saved seed overall, especially on irregular-shaped fields. Before we had individual row shutoff, we used to plant 8 rows (half a planter) when we only needed two rows to finish the field. The other big savings I'm sure we'll see is extra yield, because when you double plant, you basically end up with zero yield in those areas," he says.
Snyder has two tractors with auto steer, and just planted his third season with a 16-row John Deere 1770NT CCS. "The main issue we were having with the planter was keeping population consistent due to ground slippage when running at higher vacuum settings. We solved that by adding Precision Planting eSet vacuum disks and Rawson hydraulic drives," he says.
One added benefit that Steve hadn't realized until using row shutoff was in time savings. "For 28 or so years we've always come to the end of the field, stop, lift, turn, stop and set it down, then go. Now, we don't stop at all, and can lift the planter at any time and set it down early and never worry about double planting. That allows us to plant more acres in a day, and I'm much less tired thanks to auto steering."
Snyder likes the simplicity of the SureVac set up and operation. It simply replaces the existing vacuum covers on each row. Electronics cut off the vacuum at the top of the seed disk to stop planting while seeds fall back into the meter's seed pool. When the shutoff device pulls away, vacuum is restored and planting continues.
"With auto steer and row shutoffs, I can get by with a 16-row planter because I can cover ground really well. It's really made planting faster and more enjoyable again," Snyder adds.
For more information, visit
SureVac Shutoff http://www.agleader.com/products/seedcommand/