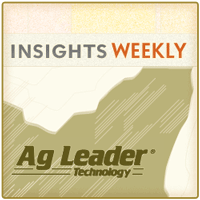 We've written before about economic savings derived from auto steering and auto planter row shut-off off. But many growers often favor the aspects of increased productivity with less fatigue at the end of the day.
We spoke with Adam Gittins, Precision Ag Sales Manager for HTS Precision Ag Solutions in Harlan, Iowa, about the current planting season and local farmer philosophy on this subject.
"Farmers, and I'm one of them, often apply two schools of thought regarding productivity and planting season—auto steer and auto shut-off," Gittins says. "First, adding auto steering allows growers to run later at night with less fatigue and still be every bit as accurate as planting during the day. Second, by adding auto row shut-off to the planter, guys are saving time with quicker turn time at the headlands."
Farm more acres. Running longer hours combined with quicker turns can help growers farm more acres with the same equipment. "We've seen operations add farm land, and instead of buying another tractor and planter, they'll instead buy auto steering and planter shut-off to increase productivity—and be able to farm 20 percent more ground with the same equipment," he says.
"It so much less stress when you don't have to stare at a marker furrow all day. And I feel I'm doing a much better planting job because I can swivel my seat part way around and watch row units and planter attachments, and can make quick adjustments as needed—instead of focusing mostly on driving. And I feel so much better physically at the end of the day," he adds.
Becoming standard equipment. Gittins cited one extreme example from this past winter where a farmer saved money by buying an auto steer unit instead of paying for markers on a new 90-ft. planter. "Another trend we're seeing is that guys who purchase new tractors won't wait and add auto steer later, they put it in now."
While good weather is really helping a lot of farmers get crops in the ground quicker this spring, any grower with auto steer and auto planter shut-off will tell you how this technology has truly helped them improve their entire planting operation.
For more information, visit
Tips for using AutoSwath http://www.agleader.com/2010/04/08/tips-for-using-autoswath/
Ag Leader Steering Products http://www.agleader.com/products/steering/
Ag Leader Products http://www.agleader.com/products/
HTS Precision Ag Solutions, Harlan, Iowa
http://www.htsag.com/
HTS on Facebook
http://www.facebook.com/pages/Harlan-IA/HTS-Precision-Ag/222272725264?ref=ts
HTS Precision Ag's blog
http://htsag.blogspot.com/