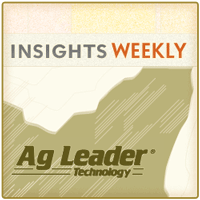 Added features to existing precision farming monitors can truly benefit owners and prospective buyers alike. Such is the case with Ag Leader's dual product application upgrade for its mid-range, economical EDGE display.
Owners of granular spinner-spreader fertilizer rigs and anyone with a sprayer will benefit thanks to new dual product control. "Fertilizer applicators can now variable-rate apply both P and K, or apply a fertilizer blend along with micronutrients at the same time," says John Howard, DirectCommand Product Manager with Ag Leader Technology. "The EDGE has the ability to precisely control the speed of the spinners to deliver spread pattern accuracy."
For sprayers, dual control means you can control both a liquid carrier and a direct-injection pump. "With our DirectCommand system's AutoSwath control, and the interface to the Raven Sidekick chemical injection pump, growers and retailers gain complete control of both products," he says.
Howard says that fertilizer retailers who seek an economical monitor with just the right functionality for their needs will be pleased with this new addition to the EDGE display—especially with the auto steering guidance control features added last December. "We continually strive to provide practical and economical solutions, while helping users upgrade as seamlessly as possible."
Current EGDE display owners can download this firmware upgrade to their monitor. http://www.agleader.com/customer-support/downloads/
For more information, visit
http://www.agleader.com/2010/04/28/ag-leader-adds-dual-product-application-control-to-edge™-display/
EDGE Monitor:
http://www.agleader.com/products/edge/
Difference between EDGE and INTEGRA monitors:
http://www.agleader.com/products/displays/