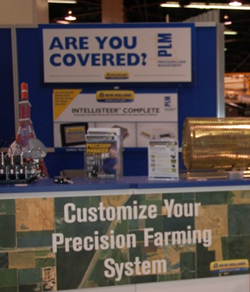 Precision is the name of the game when it comes to farming these days. It's getting hard to find a farmer anymore who doesn't use auto steer at the very least – and the options to save resources, time and money just keep growing.
At the New Holland exhibit at Commodity Classic, I talked to Matt Ahrens about some of the products they offer for growers and a program they have that can help farmers see exactly how they can benefit from using different types of precision solutions on their own operations. "We have a website – PutYourFarmOnTheMap – and on that website we have a cost savings calculator and you can go in and put your input costs on their, how much fuel usage per acre depending on implement width, and you can see what kind of savings you can get," Matt said. "The good thing with that is that it's their numbers, their input costs, so they get to see what their savings are."
Matt also demonstrates the new AgGPS® FM-1000™ integrated display working with the Trimble Field-IQ in the video below. You can find out more about New Holland's product line-up and more on the website PutYourFarmOnTheMap.com.