Spring is just around the corner – the time when a farmer's fancy turns to thoughts of planting.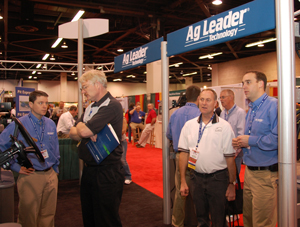 Growers stopping by the Ag Leader Technology booth at the Commodity Classic trade show last week definitely had spring on their minds. General sales manager Mike Olson says they talked a lot about what growers need to know to get precision farming equipment ready for the season. "The biggest thing is to get the stuff out early and start going through it," Mike told me. "You need to bring the monitor out and download all the data from last year, make a back up, and then get it set up for this year. Make sure all your field names are in there, your boundaries, and make sure all your firm ware is updated."
Mike says updating is important because all companies bring out new features that make things more efficient and easier. Listen to Mike's interview below and talk to your local Ag Leader dealer for more pre-planting tips.