Trimble debuted a couple of new innovations at the recent National Farm Machinery Show in Louisville, which they were also showcasing at the Commodity Classic last week.
EZ-Sync™ is a wireless data transfer capability that provides enhanced information management for growers and agribusinesses, and the EZ Surface Software provides surface drainage analysis and design for farmers and drainage contractors.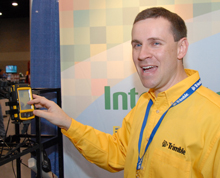 Brian Stark, who does information management for Trimble, is the company's EZ-Sync expert. "EZ-Sync allows you to take data wirelessly from a mobile computer or from the Trimble FMX display and send that data from the field to the office," Brian explained in an interview. "Or, if I'm in the office, I can send my data from the office, [such as] prescription maps or target points, to the field."
Brian says the software is compatible with several different computers offered by Trimble and it lets producers and managers exchange information in real time. Plus, it decreases the amount of data that is lost simply because workers don't have time to manually enter information gained in the field when they come back to the office. And, managers are able to better communicate with their workers still in the field.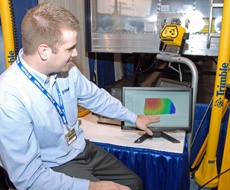 Trimble retailer Joey Schlatter of Schlatter Inc. of Francesville, Indiana explained EZ Surface. "This software helps contractors define watersheds and flow patterns so they know how to properly drain their fields, whether using surface or sub-surface drainage methods," Joey said.
With this system, elevation data is gathered through using some GPS-based tools from Trimble. "Once we've collected all that elevation data, we bring that data into the office, into our EZ Surface program and generate a 3-D elevation map. Then, with a click of a few buttons, we can see the flow lines, watesheds and all the tools we need to properly design that [drainage] system," he added.
More information on both EZ Sync and EZ Surface are available from www.Trimble.com.