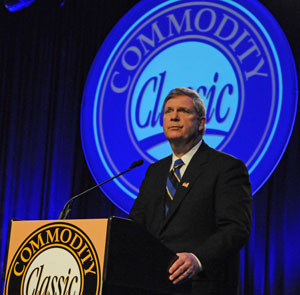 U.S. Secretary of Agriculture Tom Vilsack gave the keynote address during the general session at the 2010 Commodity Classic in Anaheim, California on Friday and focused on the achievements of American agriculture.
Comparing agriculture in this country to gold medal winners and hall of fame inductees, Vilsack talked about the amazing productivity of our producers. "These are people who plant 240 million acres of our land, they are the most productive farmers in the world," Vilsack said. "They help to produce 108 billion pounds of protein a year that feed 300 million Americans and many millions around the world. In my lifetime, they have gone from one farmer feeding 20 folks, to one farmer feeding 150 folks. They're responsible for a trade surplus at a time when we talk mostly about trade deficits."
You can definitely give credit to farmers for taking advantage of advancements in precision technology and biotechnology for those accomplishments!
Listen to Vilsack's speech in the player below.
Thanks to John Deere for sponsoring our coverage of this year's Commodity Classic.