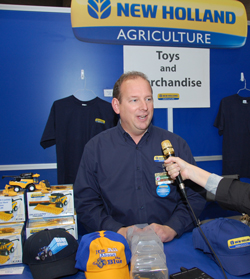 Green farm equipment apparel has gone pretty mainstream in the past several years, but if you see someone sporting a New Holland blue shirt or cap, you can be fairly certain they are a real farmer.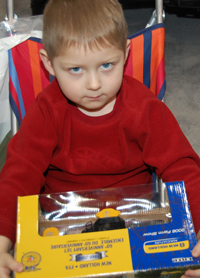 I talked with Glenn Brumley who was staffing the New Holland toys and merchandise display at the National Farm Machinery Show about some of the popular items at the big show. "Each year we have a special feature and this year it happens to be a combine in commemoration of the 35th anniversary of our twin rotor combine," Glenn said. "So that's been a popular item since every body likes to have something that's dated from each farm show season."
Glenn says the dated toys are always big sellers for collectors, but the kids like them, too! The little guy in the photo got a special deal on last year's featured item. You can find some New Holland merchandise here on-line.
Listen to my interview with Glenn here: