Earlier this month, Chuck told you about Ag Leader's Blue Delta Dealer Network announced at the Iowa Power Farming Show. I had the opportunity to talk with one of these elite dealers and two of his satisfied customers at the National Farm Machinery Show.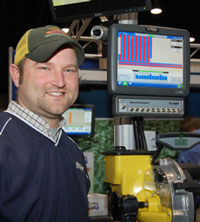 Rick Hoeing is with Jacobi Sales of Seymour, Indiana and he is one of only a handful of dealers nationwide who have graduated thus far from the new Ag Leader Academy to become the very first Blue Delta Dealers. I asked him why it was important for him to go through the in-depth training it required to receive that designation.
"The Ag Leader Blue Delta Dealer Network is definitely a very important part of the precision ag industry which is very dependent on service to the customer," Rick said. "As precision ag as an industry goes, it's in constant change, almost seasonal change. To be able to gain hands-on experience well before we have a product in place in the field is a huge asset."
"The customer is going to buy a product that he knows he has quality service for," Rick added.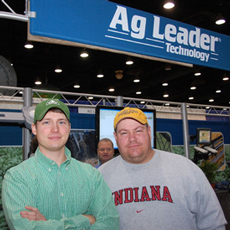 Two of Rick's customers, Justin Gelfius (left) and Steve Bennett, were with him at the Ag Leader exhibit and I got a chance to ask them what was so special about a Blue Delta Dealer. "They're always just a phone call away and normally over the phone they can diagnose your problem and get you going again," Steve said. "Rick's been great to work with," Justin added. "It's really nice to stick with somebody that you can know and trust with regard to technical support and Rick is very good with all the new equipment and technology."
Steve and Justin actually use precision technology on their commercial tomato operation in southern Indiana, using it for everything from spraying and setting tomatoes to cultivating and picking tomatoes.
Listen to my interviews with Rick, Steve and Justin here: