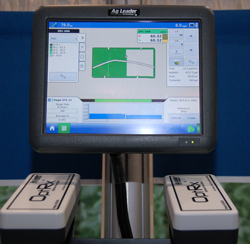 Ag Leader Technology was demonstrating how the OptRx™ Crop Sensor System works at the National Farm Machinery Show this week in Louisville.
The OptRx crop sensor system measures and records data about a crop in real-time using the reflectance of light shined on the growing crop. "The biggest use for this is for variable rate nitrogen application on the go," Ag Leader's Roger Zielke told me, which helps farmers put exactly the right amount of fertilizer in the right spot.
That helps growers get a good return on their investment. "We ran this in quite a few fields in 2008 and 2009 and we compared to their flat rate that they would have done and we saw a big yield increase from what the sensor prescribed compared to the farmer and that has ranged from $20 all the way up to $100 – the average is about $20-30 per acre," Roger said. "This could turn out to be one of the higher return on investment products that we've ever had since nitrogen has such a huge effect on yield in corn and other grass-type crops."
You can watch a video showing how the OptRx™ Crop Sensor System works here and listen or download just the audio portion below.