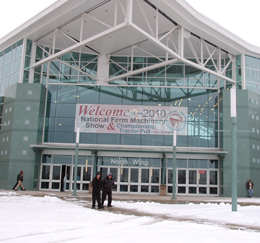 A blanket of snow greeted attendees of the 2010 National Farm Machinery Show today – but since it fell yesterday, everything is going off as planned and the show is just as big as ever.
Harold Workman, president and CEO of the Kentucky Exposition Center which handles the big show, emphasized that it's business as usual for the four day show. "We got some pretty northern weather here with 6-8 inches of snow that came in yesterday," he said. "But the interstates are clear, we got the parking lots cleared off, and a lot of people are coming in to the show."
This is the 45th year for the show which Harold said started in one little corner of one of their wings and grown to more than 800 exhibitors filling over 1.2 million square feet of blessedly indoor space. "It really has become an icon – kind of a barometer for the agribusiness industry," he said. Attendance is normally right around 300,000 for all four days of the show, including the Championship Tractor Pull sponsored by Syngenta. That event is just a few years younger than the NFMS and is always a sell out.
Our Precision.AgWired.com sponsor Ag Leader Technology is here and we will be visiting with them about what is new this week.
Listen to or download my interview with Harold Workman in the player below: