If you are in the market for geospatial data, check out USDA's Geospatial Data Gateway that "provides One Stop Shopping for natural resources or environmental data at anytime, from anywhere, to anyone."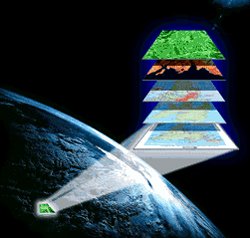 The latest must-have product in the geospatial shop is new satellite images depicting agricultural land cover across most of the nation for the 2009 crop year from the National Agricultural Statistics Service (NASS).
The images, referred to as cropland data layers (CDL), are a useful tool for monitoring crop rotation patterns, land use changes, water resources and carbon emissions.
These crop-specific, digital data layers are suitable for use in geographic information systems (GIS) applications. They can be used by agribusinesses, farmers, government agencies, researchers and academic institutions to study pesticide risk, epidemiology, transportation, fertilizer usage, carbon dioxide flux and other topics.
NASS produced the CDLs using satellite images observed at 56-meter (0.775 acres per pixel) resolution and collected from the Resourcesat-1 Advanced Wide Field Sensor (AWiFS), Landsat Thematic Mapper and Moderate Resolution Imaging Spectroradiometer (MODIS). The collection of images was then categorized using on-the-ground farm information including field location, crop type, land cover, elevation, tree canopy and urban infrastructure.
The images are currently available for 47 of the 48 contiguous states, all except Florida, which is still in process. Get them on either the Geospatial Data Gateway website or from the NASS Research and Development division.