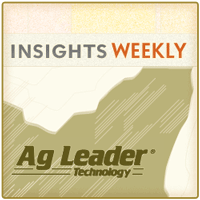 As with any piece of machinery, computer, etc., there's always a bit of a learning curve. Same goes for precision farming equipment. A good dealer with good technicians can be worth their weight in gold. But good ongoing training from a manufacturer can really help speed the adoption process.
To that end, this week I asked Jessica Reis, Marketing Communications Specialist for Ag Leader Technology, about how they approach training. I'll let her tell you the story…
"Each summer since I've been at Ag Leader, I've conducted customer interviews and testimonials. I always ask the question: 'Are Ag Leader products easy to use?' The typical farmer response is – 'there's a learning curve, but you catch on pretty quickly.' Then I ask them about teaching someone else in their operation and the response is – 'a couple of times around the field and they can run it on their own, no problem; or my dad picked this up in about five minutes and he doesn't like computers!'
"Even though Ag Leader products are simple to use – especially for those who grew up with technology – Ag Leader wants to make sure growers get as much out of their precision farming investment as possible. We want to educate them on their particular product, but also the other functionality and technology that's out there.
"We have numerous training session options:
Hardware Training Sessions – These are in-field sessions, sponsored by the local Ag Leader dealer. Ag Leader personnel and the sponsoring dealer offer pre-season training, typically in Feb & March; then Pre-Harvest training is offered in July, Aug, Sept.  Dates correspond with the geographic area's time in the field.
SMS Online Training – Various SMS software features and functionality are discussed during these online sessions; great for growers who would like to attend training in the comfort of their home/office.
SMS Basic, SMS Advanced or SMS Mobile Training – One day trainings that walk you through the software and its features.
SMS Certified Training – This is a 3-day, in-depth training. At the end of the training there is a test – when you pass you receive a Certified Manual and Certificate for passing the class. You can earn CCA credits for attending and its ideal for crop consultants who work with clients, allowing them to be certified in handling data using SMS software. We've even had some more progressive end-users attend this training as well.
"So why is this important? Although I do not want it to seem like you have to have training to use an Ag Leader product (that is far from the case), I want to let your readers know its available as a resource. One of the largest benefits is the opportunity to interact with other growers and learn about how they use Ag Leader products," she says.