Here's another story by our Joanna Schroeder from the floor of AG CONNECT Expo.
Topcon Precision Agriculture is a global company with a strong presence in the U.S., Australia, New Zealand and South Africa and is growing in Europe. One of their most popular products is the AGI-3 receiver. This system not only picks up GPS satellites, but also receives information from Galileo, the European satellite and Glonass, the Russian satellite said Michael Gomes, the company's Director of Global Strategic Alliances, during the AG CONNECT Expo.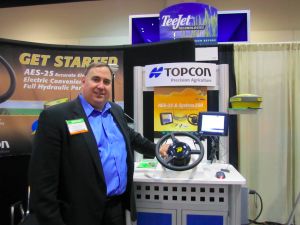 The most unique aspect of this precision ag technology is that the receiver can steer the tractor and I asked Gomes why this was advantageous to a farmer. He explained that being a farmer is economically hard. Input costs keep rising whereas commodity prices are not neccesarily increasing so farmers are squeezed for profit. So, he continued, products like the AGI-3 are tools for efficiency.
"What they allow you to do is get more productivity out of the asset. When you put in an auto steering system on a tractor it is not uncommon to get double hours. Now you can get day and night repeatability," said Gomes. This also allows farmers to go through re-tooling and ultimately a farmer can farm more acres at a lower cost per acre.
The AIG-3 works directly with steer ready tractors but if a farmer doesn't have one, he can use the AES25 which in essence, gives the farmer a steer-ready tractor.
Listen to my interview with Michael here.