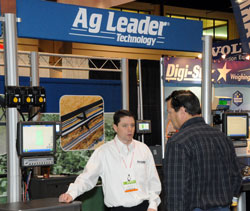 One of the exhibits I visited at AG CONNECT Expo last week is Precision.AgWired.com.com sponsor, Ag Leader Technology. Mike Olson, Sales and Support Manager, was on the floor interacting with attendees when I stopped by.
The Ag Leader booth was one of the ones displaying the "New Product" banner. I asked Mike what was new. He says there have been several new products released recently by the company including their new INTEGRA display. The 12.1 inch screen combines the operation control options Ag Leader is known for, with a built-in full-featured steering and guidance system including an on-screen lightbar.
Mike says most of the growers he spoke with know they need to implement precision technology but are asking questions about how they can use it in their operation.
You can watch or listen to my interview with Mike below: