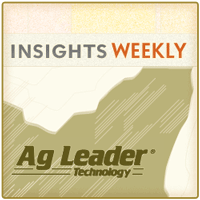 We hope harvest is finally over, although it may not be for some, due to the weather extremes that seemed to occur across the Midwest.
As you reflect on your year, and begin to think about 2010, thoughts usually turn first to seed buying. And due to the tax advantages we highlighted last Friday ("5-Year Farm Equipment Depreciation Ends in 2009"), perhaps you should look at investing in technology that will stop seed waste and save yield.
Ag Leader Technology introduced its patent-pending SureStop electric row clutch for row crop planters back in February. These electric clutches work in tandem with the Ag Leader SeedCommand to start and stop seed flow row-by-row eliminating seed waste on end rows, point rows, around waterways/terraces and more. Not only do you achieve seed savings (estimated from 3% to 12% depending on field size/shape), you also gain yield in those areas that use to be double planted, which robbed yield from all plants in those areas.
While availability was limited last spring, some farmers who used the clutches offered their views on how they worked.
Grower Comments. "The return will be from the seed that I am saving, that I've been wasting all these other years," says Scott Duncan of Flandreau, South Dakota. Other producers also saw similar benefits of lower seed costs and increased yield potential by using the clutches.
"It just seemed in the past when you plant you have these point rows and you're putting rows in the middle of other rows, and that won't give you yield. Normally we were having to go and buy additional seed, and this year we had seed that we could return," says Lyle Nelson, Leland, Iowa.
"The best thing about the clutches would be the less overlap," says Andrew Hanson of Forman, North Dakota. The clutch starts and stops seed flow by temporarily disengaging the seed meter, eliminating double-planted areas as well as the need to accurately raise/lower the planter at end rows. "It makes it easier so you don't have to mess with all the switches for the overlap. You don't have to go back and re-seed where you didn't hit the switches in time," he adds.
Each clutch requires a low-amperage draw (1/3 amp) and is operated using the tractor's standard electrical system. Since electricity is used to power the clutch, rather than air, no air compressor, air tank or other equipment is required for the clutches to function properly. "All along I was looking to find something simpler, that I didn't have to use an air compressor and hoses. The electric clutches, in the back of my mind, it was what I had been looking for. I was waiting for something like it to come out," Nelson says.
Designed for chain drive seed meters, the clutches are compatible with many major planter manufacturers, including Case IH, John Deere, KINZE and White.
For more information or to order SureStop clutches, contact your Ag Leader Dealer, call 515-232-5363 or visit www.agleader.com.