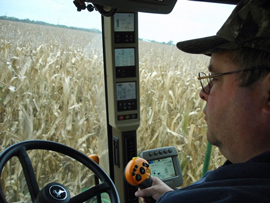 The U.S. Grains Council (USGC) asked farmers and others to submit photos of this year's harvest and despite the slow pace this year they have already gotten some good ones.
This photo is captioned "John Nienhiser makes his way into the fields with modern technology on the Nienhiser Family Farm near Chapin, Ill." This is definitely one of those years where precision technology more than pays for itself.
If you have any harvest photos to share, the deadline for the USGC contest is December 1. Every photo is an entry for a free USGC meeting registration for the 7th International Marketing Conference and 50th Annual Membership Meeting in Puerto Vallarta, Mexico, Feb. 13-17, 2010.
The Council will assume the rights of submitted entries for use in publications and online. Entries must be JPEG files. Submit your entries along with your contact information and brief photo captions via e-mail to thegrainboard@grains.org by Dec 1. You may also mail entries in a CD or jump drive to Melisa Augusto at 1400 K St. NW, Suite 1200, Washington, DC 20005.
Check them all out here on the USGC Flickr photo album.