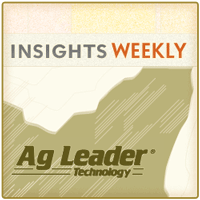 Last week, Ag Leader Technology made a big splash by announcing their new precision farming technology collaboration with AutoFarm. Along with that big news, they also launched six new products. Here's a brief look.
INTEGRA™ Display
• Rugged, moisture-resistant design featuring a 12.1-inch full-color touchscreen with high-definition mapping.
• Core functionality includes: built-in manual guidance, full-screen mapping, planter and application control, yield monitoring, real-time data logging and automated steering.
• Four video camera inputs for better view of equipment for operation and safety.
• Dual-antenna roof module provides automatic steering control with sub-inch accuracy.
• Logic 7D™ technology tracks pitch, roll and yaw as well as vehicle position and heading at all times.
• Integrated cellular communication capability allows operators to request help for in-field technical support.
• Compatible with INTEGRA™ or EDGE™ display.
OptRx™ Crop Sensor System
• Mapping and data collection as well as real-time variable rate application of agrochemicals, specifically nitrogen.
• Sensors communicate with the applicator to put less nitrogen on healthy corn plants and more nitrogen on weaker, nitrogen-deficient corn plants.
• Collect information, including vegetative index, to measure the impact of nutrients, water, disease and other growing conditions on crops.
EDGE™ Display New Features
• Manual Guidance – built-in, full-featured guidance system including on-screen lightbar showing cross-track error and pass number.
• Serves as the user-interface for OnTrac2 – Ag Leader's new economical and easy-to-install assisted-steering system.
• Supports Ag Leader's new advanced automated steering solution – ParaDyme™.
• Interface to the NORAC UC5™ Spray Height Controller – monitor and control boom height functions as well as view an on-screen coverage map.
OnTrac2™ Assisted Steering
• Cost-effective assisted steering solution to help eliminate skips and overlaps, lower fuel consumption and reduces operator stress and fatigue.
• Simply latches on and off for easy transfer across multiple brands and types of vehicles.
• The high-torque, positive gear drive delivers the turning power needed for demanding of agricultural vehicles.
L160 Lightbar
• Companion lightbar designed to aid in guidance operations using the INTEGRA or EDGE display.
• Easy-to-read display shows cross-track error, pass number and degree heading; offers 16 multicolor LEDs.
• Can be mounted on the windshield or dash, allowing operators to monitor guidance by looking straight ahead while keeping their display within easy reach.