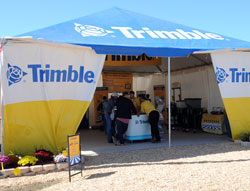 The 2009 Sunbelt Ag Expo has concluded and it did include a number of exhibits from precision product companies. One of those, having the largest field demonstration wasTrimble. I stopped and spoke with Matt Hesse, Autopilot Sales Manager.
The company was showing various levels of precision integration. They had two different land leveling systems. One used a GPS control and one used a 2D laser system. They also had their new TrueGuide passive implement steering system in use. This system puts an antenna on the implement to tell the tractor where it is so the tractor knows how much to move in relation to the desired line to optimize the placement of the implement. They also had their TrueTracker System on multiple tractors and implements.
Matt says that they take applications that are not possible for human beings and put them into a machine to do it for us. This ultimately increases efficiencies that have produced up to 20 bushels per acre increases in corn.
Feel free to check out my photos from this year's Sunbelt Ag Expo 2009 Photo Album. My visit to the show was made possible by Growth Energy.